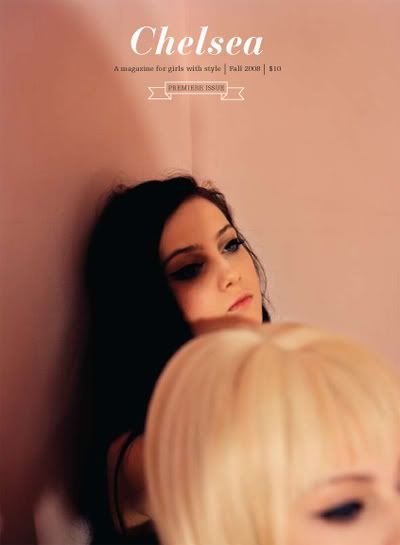 I have been dying to post about this for ages and now I am very pleased to announce that I have published a magazine and you should read it! Like ASAP! It's called Chelsea, which is a bit self indulgent but not entirely unreasonable given my level of involvement. I designed it, produced and styled the editorials, conducted the interviews, and I got my own freaking Starbucks everyday. And of course I roped in a bunch of genius photographers, writers, models, hair & makeup artists, and illustrators to contribute to my crazy little project. So, if you like Cat Party, pretty clothes, magazines like Sassy and Cheap Date, and James Franco's performance in Pineapple Express (ok maybe that last one wasn't so relevant) then YOU are the reader of my dreams and I really hope you pick up a copy (stockists listed below). Issue #1 features:

-Q&A's with Thakoon (who longs to build treehouses) Subversive Jewelry's Justin Giunta (who's vice is Miami Vice), Visionaire's Cecilia Dean (who has a fondness for Ukranian egg painting), Samantha Pleet, (who cut up her mom's Chanel bag and made a backpack) and Phillip Lim (who is a major fan of The Bad Girls Club)

-Photography by fellow cat lover Sarah Wilmer, lady killer Jeff Brown, and the fantastic Red de Leon

-Illustrations by sassy Show Pony proprietress Kime Buzzelli

- Sexy articles by No Good For Me's Laura Jane pertaining to the eternal style of Lizzy Mercier Descloux and Claudia Kishi.

-Hella wacky horoscopes by Cat Party's own Joanna Fields



You Know What Your Daddy Said Patty by Red de Leon


Cecilia Dean by Sarah Wilmer


lllustration by Kime Buzzelli



Claudia Kishi Fashion Week by Sarah Wilmer


Phillip Lim by Jeff Brown



Lizzy Mercier Descloux (courtesy of Ze Records)


What We Do is Secret by Sarah Wilmer

You can purchase Chelsea #1 at St. Marks Bookshop in Manhattan, Spoonbill & Sugartown in Brooklyn, and Show Pony in LA. Additional New York stockists will be announced shortly. Or you can send $10 via Paypal to chelsea@chelseamagazine.org and I will send you a copy.

And lastly, I have to use this forum to thank all of the people who contributed to this project. There are to many to name but I have to give major props to Sarah Wilmer, Amanda Brooks, Laura Jane Faulds, Red de Leon, Lexy Weinstein, Megan Hart, Joanna Fields, Cecilia Dean, my parents, Jeff Brown, Kime Buzzelli, and Pascale Gatzen, who I could have not done this project without.