Here are our picks from New York Fashion week. Check it!

MEGAN

This buttercream dress with lavender feather print from Jovovich-Hawk
was by far my favorite piece of all the collections. I've never been
much of a pastel fan, but this dress is winning me over in a big way.
Rachel Comey seems to be coming along nicely, I really enjoyed her
print combinations and use of texture in her latest collection. The
delicate floral prints paired with thick black rimmed glasses offered
just the right amount of tomboy to keep the collection from being
overly saccharine.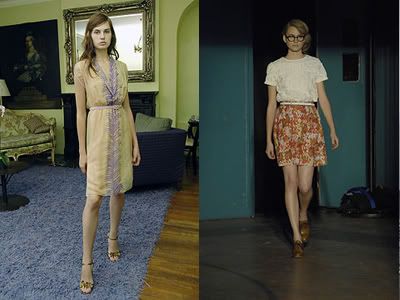 The color Phillip Lim incorporated into his collection was so
refreshing in an ocean of neutrals, and the lace detail on the dresses
and tops was some of the best I have seen. It reminds me of those
delicate sea-fans, such a pretty contrast to the boxy silhouettes of
the dresses and separates. Karen Walker, one of my favorites year
after year has done it again! She is the master of effortless cool,
all of her pieces being incredibly wearable. Oh yeah, and her
sunglasses are THE BEST!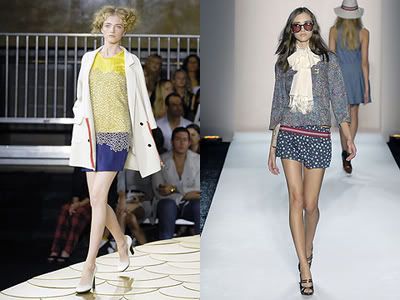 Thank you Marc Jacobs, thank you for giving me hope again. I was
really starting to worry, what had happened to the fun vintage-loving,
sorta sexy but kinda nerdy collections? I can breathe again, the
Spring 2007 line is just what I needed. How perfect is that little
blue vest? So very. Alice Temperley's collections are always spot on,
I was especially drawn to this too-cool little white and black number,
though I highly suggest checking out the rest of the collection if you
haven't already. For those of you who are not millionaires, Temperley
for Target will hit stores on the 16th!




JOANNA

Marc Jacobs: This bag is just so gaudy and wonderful. Anything involving that many sparkles makes me drool all over myself. Also I obviously need this bag because it has a J on it! for Joanna! also, note the rat bracelet!

Marc Jacobs: I am definitely on the love side of this love or hate show, and I love every element of this outfit.




Phillip Lim: Smiley face!! Awesome!! I mean that obviously makes this look for me but everything else gets an A+ as well.

Anna Sui: I would like these Terry de Havilland-esque shoes now...at my door...with the socks!!!!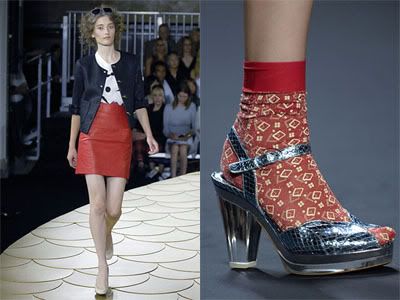 Benjamin Cho: I loved this whole show but something about this dress is so perfect to me. Yes, I will take one, and I will wear it with my new Anna Sui shoes and socks!!!

Thakoon: I am so into all the awkward-and-ugly-but-in-the-best-way-possible clothing in this show, but I especially thought that this blouse was the most amazing. thing. ever.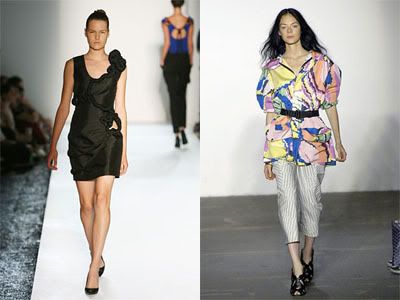 CHELSEA

Proenza Schouler: This was far and away my favorite collection of the week, although one could argue that they drew a little too much inspiration from Nicholas Ghesquiere. But whatev, I am seriously coveting every pair of shoes that they sent down the runway.

Proenza Schouler: I am always so impressed by their sense of proportion. Impeccable!




Phillip Lim: I have spent a lifetime hating Birkenstocks but Phillip Lim's interpretation of the classic hippie shoe is oddly appealing.

Preen: My goal in life (aside from being BFF's with Carine Roitfeld) is owning a Preen dress. Like this one. It's so shiny!




Karen Walker: This dress is possibly the best interpretation of pageant fashion ever. Ten bucks says Chanel Iman will wear it in Teen Vogue.

Marc Jacobs: I think it's safe to say that all of us at Cat Party are thoroughly obsessed with the rat-themed jewelry in this collection. Want!