Here are our picks from London!

JOANNA

Paul Smith Women: Best fashion reference #1 - David Hockney! I always love Paul Smith's work; it's so beautiful and classic, and he always uses the best wovens. I love this outfit with its two versions of the classic Paul Smith stripe, the Hockney glasses, and the mixture of other prints.

Luella: Best fashion reference #2 - Enid from Ghost World! When I first saw this show I yelped with joy, I always have Ghost World on the brain! I loved Luella's interpretation of the glasses and boots Enid wore in the movie, and, of course, everything else about the collection. I will definitely be searching for this t-shirt as soon as the collection comes out!




Marios Schwab: I really love these prints. Yes I do indeed. They remind me of those "oily" stickers I used to collect when I was younger; the ones that were really important and special and I would never trade them with my friends.

Clare Tough: Yes, I've mentioned her here and there on the blog lately, and if you haven't checked her out now you will understand my obsession! This is the most amazing, epic knit piece I have ever seen. Look at the rest of this collection too -- she does this great knit piece of the new york skyline, which is also featured in the new issue of Purple.




Christopher Kane: As much as I love his tight, short dresses, I am really into the direction Christopher Kane went in this season. In this outfit, i love the tiered leather and the way it's paired with the quilting on the shirt (which, judging by the video, is composed of sheets of Swarovski crystals - drool!)

Basso and Brooke: I always look to them every season for exciting prints. Usually, a textile that looks so painterly makes me wanna puke a little, but this is really delicate and pretty and I love the cut of the dress.




CHELSEA

Marios Schwab: I'm not usually into dresses that remind me of the frog autopsy that I performed in 8th grade but I'll have to make an exception for this one.

Giles: Giles Deacon's foray into extreme prettiness really took me by surprise. Honestly, who can resist the allure of a dress like this? And the hats! I am seriously hating on style.com for the lack of detail shots. Bad style.com! Bad!




Jens Laugesen: This gold tuxedo jacket is so Grace Jones-ish, how could I not fall in love?

Jonathan Saunders: As a child I always hoped that people in the future would dress like this. I'm kind of pissed that it didn't actually happen.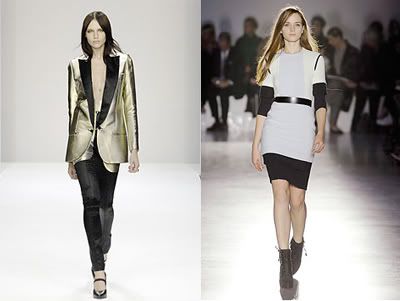 Christopher Kane: It is so refreshing to see a young designer who is self-assured and willing to take risks. Did we all really expect Christopher Kane to make Léger/ Alaïa homages forever? I for one am loving the looser silhouette that he presented for spring.

Biba: I am very pleased that Bella Freud decided to incorporate a feline motif into her spring collection for Biba. I think that all designers should be required to produce at least one cat-themed article of clothing each season. Am I alone here?




MEGAN

Luella: I totally had to restrain myself from posting an outfit just because it included the awesome black mask (reference to Enid in Ghost World) but honestly I just like this ensemble more. Everything is so right I can't even talk about it, my words will just mess it up.

Giles: He had me with the Bloody Bambi print, but then he went ahead and brought me to my knees with this foxy hat. Like really, a fox hat! Also, my favorite hairdo ever was included - the fishtail braid. Haven't attempted that since I was fourteen or so, maybe it's like riding a bike?




Biba: Next time I sing an ABBA song at a karaoke bar I would really like to be wearing this dress. This will probably happen (again) next weekend so I'm going to need that via express delivery. Thanks Biba!

Matthew Williamson: I used to fish for rainbow trout outside my grandparents' cabin when I was a little girl . I can only imagine how much more awesome the experience would have been if I had been wearing this dress, matching the fish I would catch.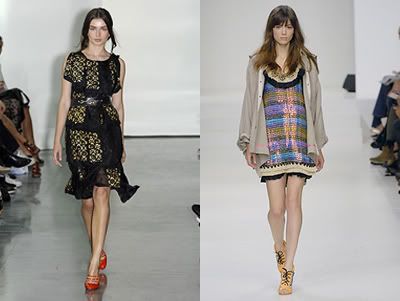 From Fashion Fringe-

Dejan Agatonovick: This is the kind of stuff that has to be seen in person, I've been pressing my nose up to the monitor trying to catch the intricate details all night. The colors are so spot-on, I can't wait to see more!

Graeme Armour: Though those shoes are probably totally annoying to walk in but I'm such a sucker for tassels, especially when they match the dress I'm wearing. I wasn't completely into everything in the collection but like I said - total sucker for tassels and (I admit) the whip-stitch...sometimes.