As soon as I thought this week couldn't get any better (being New York Fashion Week and all...) I found out that the Deitch Projects Art Parade is happening on Saturday! If you're going to be in New York, definitely get yourself to West Broadway to witness the festivities!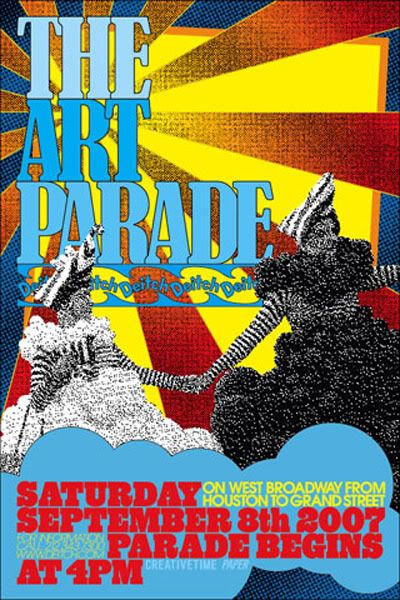 From the press release:
"This year's parade will include over 75 projects, including those by Tauba Auerbach, Assume Vivid Astro Focus, Matthew Rodriguez, The Dazzle Dancers, Kenny Scharf, COCO's Demoiselles, Trevor Stone and the Conundrums, and will involve over 700 participants - making this the largest and most dynamic Art Parade yet."

Sounds good to me! Last September I got to witness my first Art Parade. There were a couple of highlights including getting to see the Citizens Band and the Paper Magazine float with Iris Apfel. My favorite float definitely had to be the Fischerspooner float designed by Gareth Pugh. Here's a picture of Fischerspooner with Gareth Pugh from V magazine: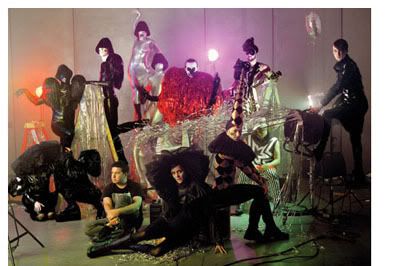 An action shot of Casey Spooner from the Parade: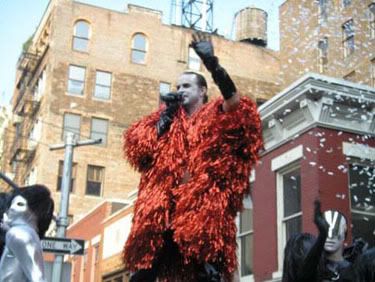 Can't wait to see what the Art Parade (especially Assume Vivid Astro Focus) has in store for everyone this weekend!